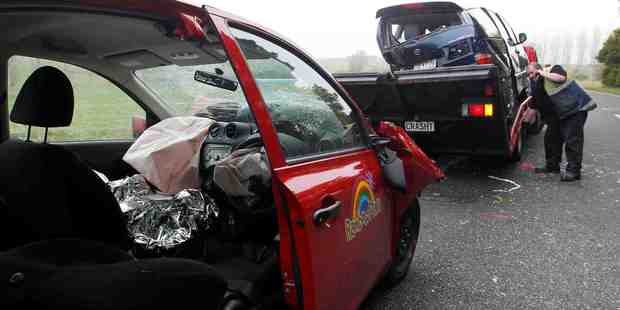 Eight people have been taken to hospital - two with serious injuries - after two cars collided on the outskirts of Hamilton this morning.
The accident happened on Tuhikaramea Road about 10km west of Hamilton today about 8.30am.
Sergeant Phil Ruddell of the Strategic Traffic Unit said early indications were that the driver of the Toyota Previa, carrying a total of seven people, had lost control of the vehicle and crossed the centreline into the path of a red Nissan Micra.
He said all the occupants of both vehicles - eight in total - had been taken to Waikato Hospital.
Two of those, including the driver of the Nissan Micra, have serious injuries while the remainder suffered moderate to minor injuries.
"Police are crediting the occupants of the Previa with all wearing seatbelts and being suitably restrained including a small child with stopping more serious injuries," said Sgt Ruddell.
"Likewise we are crediting the modern car which had airbags and crumple zones with saving more serious injuries for the occupant of the red Nissan."