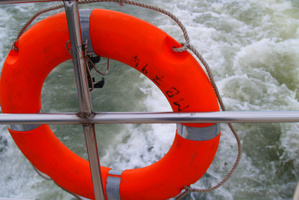 An Austrian couple have been rescued from their yacht near American Samoa after getting into trouble for the second time in a week.
The skipper of the yacht made a distress call at about 11pm yesterday indicating they were prepared to abandon ship 407km east of American Samoa, the Rescue Co-ordination Centre New Zealand (RCCNZ) said.
A fishing boat called the Tifa Imoana, which was close by, picked up the couple from the 12.8m yacht Gobo about 9am today.
"This was a serious situation in a largely empty area of ocean, and to successfully transfer the pair to the safety of the Tifa Imoana was a good result,'' said RCCNZ search and rescue mission co-ordinator Mike Roberts.
He said the skipper reported ongoing problems with the yacht, including steering difficulties.
On July 31, the skipper made a distress call by satellite phone to maritime rescue authorities in Germany, reporting a leak, damage to rigging supporting the mast, and an overheating engine.
German authorities contacted RCCNZ, which arranged for a Canadian sail training ship to meet the Gobo and and help with repairs, including work on the shrouds supporting the mast, the water pump, and installing an auxiliary bilge pump.
"After those repairs, the skipper's intention was to continue the voyage, but obviously conditions have since deteriorated,'' Mr Roberts said.
The couple were expected to be taken to Pago Pago in American Samoa in the next two days.
- APNZ