City businesses aghast at possible months-long intersection and street closures.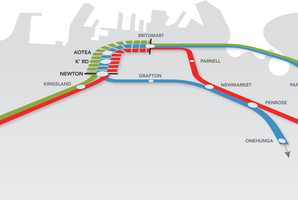 Neighbours of Auckland's underground rail project fear digging up Albert St and closing its key east-west intersections will spread traffic chaos through the inner city.
New World supermarket operator Foodstuffs wants Auckland Transport to withdraw a route protection application unless it tunnels under Albert St instead of spending two years digging up most of the road for a covered trench for two railway lines.
The council organisation, which says the tracks will be too shallow and the ground too riddled with service lines to tunnel below Albert St, will today open its case to designate a 3.4km route from Britomart to Mt Eden.
Chief executive David Warburton will remind an Auckland Council-appointed hearings panel of the council's recognition that the $2.86 billion project will greatly improve access to the city centre from all parts of the region.
The council's long-term plan says the project will reduce commuting time, improve productivity and act as a catalyst for business development.
But landowners including the Ministry of Justice as operator of the Auckland District Court fear serious disruption to vehicle and foot traffic from digging up Albert St for a covered trench from Britomart to Mayoral Drive over two years from about 2020 and closing intersections for up to 18 months.
The ministry says secure routes are needed to ensure the safety of both the public and prisoners being escorted to and from the country's busiest court, and fears noise and vibration may upset sensitive digital recordings of evidence.
Bored tunnels up to 40m deep will limit disruption along most of the remainder of the rail route, although properties will need to be cleared from the southern end, where 850m of surface tracks will need to be reconfigured.
The Corrections Department is also concerned about reduced access to Mt Eden Prison from closing Normanby Rd for six months while a dangerous rail crossing is replaced by a bridge.
Tunnelling consultant Bill Newns says in evidence prepared for the designation hearing - which is expected to take about two weeks - he expects a complete closure of the Victoria St intersection for up to 18 months and of Wellesley St for 12 months, followed by a full or partial closure of Customs-Albert Sts for up to nine months.
Auckland Transport traffic consultant Ian Clark recommends the full closure of just one intersection at a time, while maintaining east-west movements elsewhere across Albert St.
Foodstuffs consultant Vaughan Smith believes Auckland Transport has given insufficient consideration to social and economic impacts on the city centre over a three-year period, which he says in evidence will be felt by many businesses to an unacceptable degree.