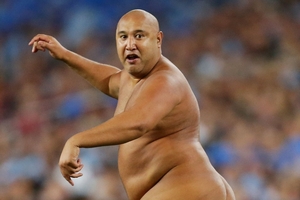 A streaker has pleaded guilty to running naked across the field in the final moments of this year's State of Origin decider.
New Zealander Wati Holmwood, 33, appeared briefly in Burwood Local Court today, where his solicitor entered pleas of guilty to two charges.
He will be sentenced on August 29 for one count of entering a playing field without authorisation and one count of wilful and obscene exposure in or near a public place.
A naked, oiled and fake-tanned Holmwood managed to outrun security guards for 90m at ANZ Stadium during a State of Origin match between Queensland and New South Wales.
He was stopped only when he tripped just short of the tryline, a move that cost Queensland an attempt at a try two minutes from fulltime.
Holmwood was born and raised in Nelson, where he has a large family. In April 2008 warrants were issued for his arrest in the Nelson District Court relating to shoplifting, resisting police and breaching bail.
He moved to Australia in 2008 with his partner and their children.
The court heard Holmwood had committed a similar streaking act in 2011 at a Warriors vs Tigers match at Leichhardt, in Sydney's inner-west.
Court documents reveal Holmwood was also convicted of wilful exposure in July last year and placed on a good behaviour bond that expired just two weeks before the Origin incident.
On the night in question, he climbed over a barricade at the south end of the field with about two minutes left in the match, court documents state.
He stripped naked, except for his shoes, and ran towards the north end of the field in front of 83,000 spectators.
"The accused's genitalia and buttocks were clearly visible to both the crowd present at the time and to television cameras, which recorded the incident and recycled it live to numerous television stations,'' the court documents state.
Several security guards tried to capture him but were unsuccessful.
He ran to within 10 metres of the Queensland try line where he slipped and fell.
Security and police then jumped on Holmwood before escorting him off the field.
While in custody, he behaved in an "erratic'' manner.
"He mumbled to himself, appeared to have glassy and glazed eyes, dilated pupils and appeared dazed and confused,'' the documents state.
Although Holmwood had little apparent problem with being naked in front of thousands of spectators, he was sheepish about leaving court on Tuesday.
After he pleaded guilty, he spent more than a hour in the courthouse eyeing off a throng of media waiting to speak to him outside.
When he did emerge, fully clothes and wearing a baseball cap and sunglasses, he kept his head down and declined to answer any questions.
- Additional reporting Anna Leask