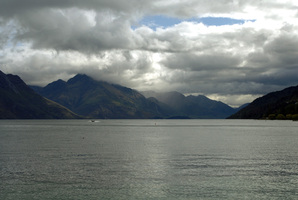 The body of a two-year-old girl has been found in Lake Wakatipu at Queenstown.
Shortly after midday today a Kelvin Heights' resident contacted police to report that her two-year-old daughter had wandered off and could not be located.
Police immediately went to the area and began a search along the lake foreshore near Peninsula Road in Kelvin Heights. At around 12.45pm, police found the child face down in Lake Wakatipu about 100 metres from where she had last been seen.
In spite of the best attempts at CPR by both police and St John Ambulance the child did not regain consciousness, a police statement said.
A number of private jetties and shoreline vegetation such as trees and shrubs are in the vicinity where the child was found.
The matter has now been referred to the coroner and the child's family is being supported by friends, relatives and Victim Support.
The child's name will not be released until next of kin are advised.
Kelvin Heights' residents have spoken of their shock at the toddler's death.
Vicky Hodge said she had not heard of any other drownings in Lake Wakatipu.
"I'm a bit shocked actually. My heart goes out to everyone involved.''
Belinda Fraser, who also lives in the area and runs a tourism business from her home said she felt "huge sadness''.
She said she regularly walked her dog around the track next to the lake but had taken a different route today. "If I hadn't done that, I could have seen her,'' she said.
"It's a tragedy, I've been feeling really sad all day.''
Another resident, who did not want to be named said the drowning was ``every parent's worst nightmare''.
"It's heart-wrenching.''
- APNZ