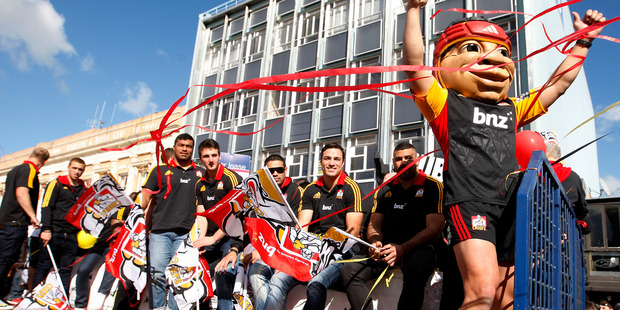 Hundreds have lined Hamilton's streets to celebrate the Chiefs second Super Rugby title in two years and to farewell some of their favourite sons.
The city held a special parade in honour of the Chiefs who beat the Brumbies 27-22 at Waikato Stadium on Saturday night.
Dozens of schoolchildren took time off class and others donning the team's colours waved flags and screamed at their heroes to perform the team's haka or at least take their shirts off.
Co-captain Liam Messam told the crowd of about 3,000 that their fans helped them to win back-to-back titles.
"We've got the best fans - you guys are the best," he said to enormous applause.
Check out photos from the parade here: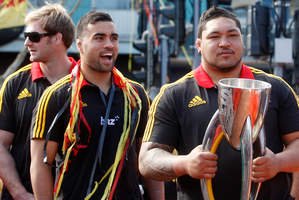 The team's other co-captain Craig Clarke said the send-off was "humbling".
He said there was a "bit of sadness" among himself, Richard Kahui, Lelia Masaga, Brendon Leonard and Toby Smith who are all about to continue their playing careers at clubs overseas.
"It is a bit, seeing this kind of thing and knowing this is one of the last times I'm with the lads as a group so it's a little bit sad."
"This is what it's all about for us being able to see what it means to the people of our franchise, it's really humbling and it's a pretty special feeling to see the kids who love you and even adults who go crazy when they see you."
Clarke said despite the loss of senior players and a big chunk of experience the team was in good hands and he didn't doubt the team could threaten for three titles in a row.
"Obviously at the top with the coaching panel we have they will get the best out of anybody who wears the Chiefs jersey," he said.
"We have been planning for the moment when a few of us are leaving and a few of the young guys will be stepping up into leadership roles."
The team were awarded outstanding achievers medals by Hamilton mayor Julie Hardaker.
"What the team has achieved is outstanding and to say that Hamiltonians are proud of the Chiefs' success is an understatement! We couldn't have asked for more than a back-to-back title win on our home ground."
"This is a win not only our city and the Waikato region, but the whole country can be proud of."