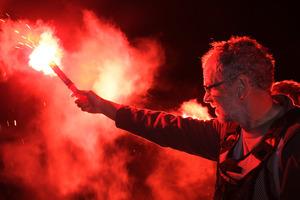 A Greymouth family got an unexpected wake-up call early today when someone set off a flare in front of their Milton Road property.
Mark Crashley said the flare was launched about 4am and the light from the explosion lit up the bedroom.
"It went up right in front of the house. My wife thought the world was coming to an end."
He said he was awake just before the incident and heard the pop of the launcher. His son said he also heard voices. Later they found the discarded canister on their lawn and the remains of the flare and parachute on the grass verge by the road.
Mr Crashley said he was glad the flare did not land on the house.
"Those things burn pretty hot."
Police are investigating and have the remains of the flare.
West Coast police intelligence supervisor Rodney Beckett said flares should only be in the hands of "legitimate" users.
"It is totally illegal to set the flares off for no reason, and when they are set off unnecessarily emergency staff are deployed to make sure there is nothing amiss."
- The Greymouth Star