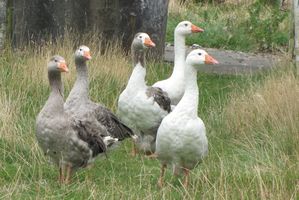 A power company employee refused to enter a property to read the meter because he feared being attacked by the homeowner's "ferocious gander".
When Norsewood resident Lyn McConchie's power bill did not arrive she contacted the power company to query her bill.
"It occurred to me that my power bill was late so I phoned to ask in case it had gone astray. 'Oh, ah,' they said, apparently there'd been some sort of trouble reading my meter.
"The girl went to check, returned and sounding very doubtful, said there was a notation under 'unable to access property'. 'It looks like, ferocious gander? Could that be right?"'
Ms McConchie, who owns a pet goose, said it certainly could be.
"Normally I'm home, see the meter reader and nip out on convoy duty. But this time I was at a convention in Wellington and it seems the gaggle was on guard in a big way," she said.
The Scanpower metre reader said he wasn't game to tackle the guard gander, preferring to call another day when Ms McConchie was at home.
Her resident gander was a good burglar deterrent. The geese at Farside Farm have in the past seen off late-night prowlers with a nip in a strategic place, Ms McConchie said.
For more articles from this region, go to Hawkes Bay Today