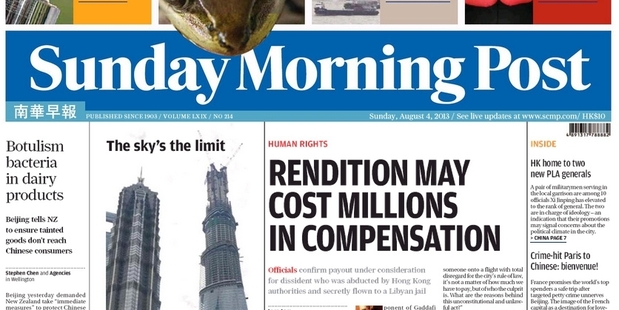 Fonterra's dairy product recall made headlines worldwide, as New Zealand's export markets react to reports of the botulism scare.
The recall was one of the lead stories at the BBC, which reported on Saturday that a strain of bacteria causing botulism had been found in some Fonterra products including infant formula and sports drinks.
It reported that besides New Zealand, countries affected included China, Australia, Thailand, Malaysia, Vietnam and Saudi Arabia.
China Daily reported that the country's General Administration of Quality Supervision, Inspection and Quarantine demanded that New Zealand "act immediately to prevent the tainted products from harming the health of Chinese consumers".
Milk products from New Zealand would face "strengthened inspection", the report said.
Under a headline "NZ pulls tainted dairy products", the Bangkok Post said Thailand's Food and Drug Administration had ordered an urgent recall of all Fonterra products imported since May.
It would inspect all Fonterra products and conduct random inspection on supermarkets.
In Hong Kong the Sunday Morning Post ran the headline "Botulism bacteria in dairy products".
Fonterra Malaysia's move to reassure consumers its products were not contaminated with botulism was reported in The Star. It carried Fonterra's statement in full, quoting the company's Malaysia managing director, David Ross, as saying: "All of our consumer branded products in Malaysia are not affected ... and are safe for consumption."
The Taipei Times said there was no indication tainted dairy products had been sold to Taiwan.
Advice changes
Saturday: Parents told not to use Karicare Gold+ Follow On
Formula Stage 2 and to use Stage 1 instead.
Sunday: Parents told Stage 1 should also be avoided.