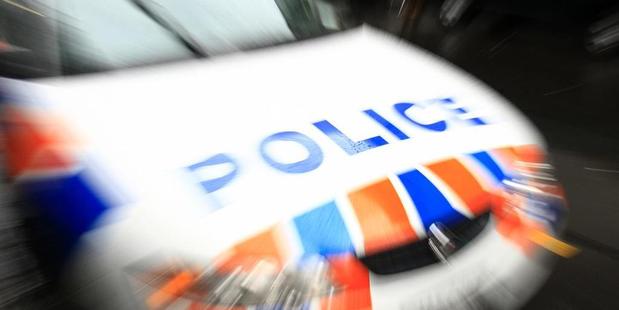 Police have revealed that a wild chase, during which a man careered through a gate and an orchard with his 10-month-old son next to him in the car, happened after he kidnapped a woman from outside a police station.
Police were relieved to get the child back to his mother and the man behind bars after the chase in Hawkes Bay on Friday.
After losing pursuing officers in the orchard, he begged a ride off a passer-by, but surrendered when she pulled up to a police cordon.
Police say the action started outside the main Napier police station some time before, when the man turned up to try to talk to his partner, who was reporting an assault against him.
They say he forced a support person who was with his partner into the family car, where he had the boy, and drove off.
That set in motion the chase and eventual capture.
But police say there was little they could do to prevent the man leaving the station.
Senior Sergeant Dan Foley, of Hastings, said they were about to interview the man's partner when he arrived.
"They had come to the police station in Napier and the police were busy co-ordinating interview rooms and people to speak to them," he said.
The women's details had been taken at the front counter, and they were moments from giving a statement.
"Police realised it was quite a serious matter at that stage," he said.
"Staff were being called back to do interviews, it was all under way.
"They were probably minutes away from taking her to an interview room to begin the process of taking a statement from her when he drove past and possibly parked outside."
The support person ran outside to confront him.
"He had a baby in the car and it's possible she was trying to free the baby from the car. He's grabbed her, thrown her in the car and driven off."
Foley said police immediately went looking for the 36-year-old.
The man, reported to be a Mongrel Mob member, was seen sometime later near Whakatu, between Hastings and Clive.
A witness said he appeared to have an argument on the side of the road with the woman he had abducted, and drove off without her, with police nearby.
He crashed through the gate and drove through the orchard at speed.
Linda Jaggers, who lived nearby, was reported to have said: "He was flying. He must have known where he was going because you wouldn't have known to go where he did."
After losing police, the man abandoned the car on Ngaruroro Ave.
The man went to a local kohanga reo and he persuaded a woman there to give him a ride to Napier, but police stopped her car at a roadblock on the corner of Station Rd and Ngaruroro Ave and he gave up.
He appeared in court yesterday charged with kidnapping, two counts of male assaults female, threatening to kill, reckless driving and failing to stop for police.
Police said more charges were possible.
He was remanded in custody to re-appear in the Napier District Court on August 7.
The baby was returned to his mother after getting the all clear from a doctor.
The incident has shades of a violent show-down in Tokoroa in December 2011, when Jamie Ginns, 32, pursued his former partner, mother of three Matakapua Glassie through central Tokoroa before shooting her metres away from the police station. Ginns later shot himself.