Proposed law change will end big savings for smokers at NZ borders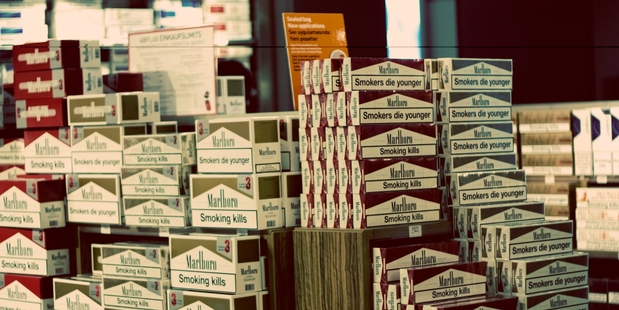 Duty-free cigarettes are in the firing line: good news for the Government's tax revenue but bad news for the dwindling numbers of smokers.
Associate Health Minister Tariana Turia has revealed to the Herald on Sunday that she is "very keen" to close a loophole that allows people entering New Zealand to bring in a carton of cigarettes for bargain prices. She intends to seek Cabinet sign-off for the law change in the next few months.
Travellers avoided $55 million to $66m in tobacco duties last year, according to official estimates, and that could rise to $84m in 2016 unless the allowance is slashed.
Ministry of Health officials are looking to either lower the duty-free limit from 200 cigarettes to 50 (matching Australia); to allow only a single open pack of up to 19 cigarettes (as in Hong Kong) or to eliminate the duty-free allowance entirely.
Anti-smoking advocates say the cheap duty-free tobacco is keeping communities trapped in addiction.
Unpublished research by AUT University's Dr El-Shadan Tautolo reveals a "cultural norm" where travellers returning from the Pacific are expected to bring back gifts of tobacco for friends and family.
"The risk that duty-free tobacco sales pose is particularly high," he says in the research synopsis.
Centre for Tobacco Control Research director Dr Marewa Glover, from the University of Auckland, said: "We find people who are trying hard to stop smoking but they get given free tobacco that well-meaning friends and family have brought in duty-free. It's undermining their attempts to quit."
Adults arriving in New Zealand are allowed to bring in 200 cigarettes. If bought from an airport duty-free store, they will save as much as half the price they would pay at a local supermarket.
Officials are looking at how a change in the tobacco concession will impact international tourism and customs agreements.
"Any changes would also have implications for airport retail business and New Zealand Customs Service operations, but these should be manageable with plenty of notice and a good lead-in time," Turia's spokeswoman said.
The NZ First party opposes tobacco excise hikes that constitute "a witch hunt against smokers and threaten a basic freedom".
Leader Winston Peters said last night: "Tariana Turia and her party have lost all touch with the ordinary people who voted for them."
A British American Tobacco spokeswoman expressed disappointment at the proposed ban. "This is another way of penalising consumers including tourists and international travellers, both of whom are very important to New Zealand."
But Tala Pasifika programme manager Stephanie Erick was thrilled with the proposal. "The smoking community has always bought duty-free cigarettes but now the non-smoking community is being pressured into it," she said.

Smoke signals mixed

At Auckland International Airport travellers are divided on whether the duty-free tobacco allowance should be cut.
Travel consultant and non-smoker Natasha Chapman says she once bought duty-free cigarettes for a family member but felt guilty about it. "I don't like buying them." Removing the duty-free allowance would have no impact on smoking rates though. "If people are going to smoke, they're going to smoke, regardless."
Housewife Tina Lloyd and her daughter, Jessica, support moves to ban the allowance. "I don't smoke. It's offensive to other people," Tina says.
In the airport's smoking area, Grant, who declines to give his last name, is incensed at the plan. He is flying to Thailand, where he says cigarettes are a fraction of the price.
"If people want to smoke, let them do it. There are other things to worry about."