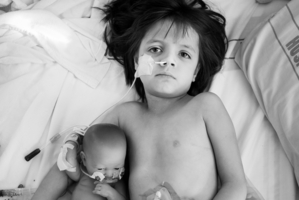 A touching image of little Eva Mitchell on her bed at Starship Hospital, where she has lived since she was born, has won gold in a national photography competition.
Auckland photographer Carmen Bird took the picture of the tutu-wearing 5-year-old, who was born with a large hole in her diaphragm.
Her lungs and other organs were unable to develop, she has gastrointestinal failure and she is not expected to reach adulthood.
Bird was delighted with the Institute of Professional Photographers' Iris Award.
"I love this photo because Eva's eyes tell her story ... She is such a special girl and has had a tough time."