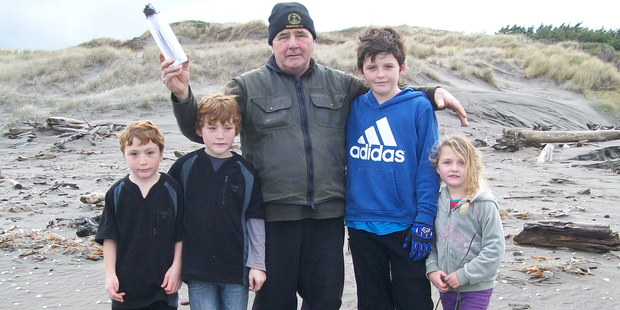 Stories making headlines around the regions today include a Turakina man who found an unusual request in a message in a bottle.
Turakina man Paul Chadfield found a message in a bottle from German woman Nina Zimmermann.
The trio who robbed the Sunshine Superette were only 14 and 15 years old.
A mother-of-four has been sentenced to community work after burgling her neighbours home.
Red light cameras have been given the green light in Rotorua.
Illegal rubbish dumping in the Bay of Plenty is getting out of control, say locals.
A hairdresser who stole from his employer has claimed he was just 'under pressure'.
A man flipped his car several times after speeding close to 200km per hour near Mosgiel.
Is the speed 50km or 70km? Motorists got confused in Masterton yesterday after conflicting speed signs were posted on a road.
The driver who smashed his car near Bayfair was apparently having a seizure.
A Carterton bullying victim has won a rare rugby honour.
Two-and-a-half year old Emma-Jane Hewlett uses the front door now after her head got caught in a cat door.
The local man who heads Kaitaia's Friday night street "papa patrols" says he is already seeing some encouraging signs.
And finally the secret to making great coffee is out of the bag.
Other stories making headlines around the region today include:
Cyclist ban the only way to save lives
Council poll on smokefree bus stops
Ex-pupils saddened by removal plan
Rescue chopper trust wrestle with dispute.
Community work given to Facebook paua seller
Students protest Stage Challenge choice
Avery award thrills both donor and family.