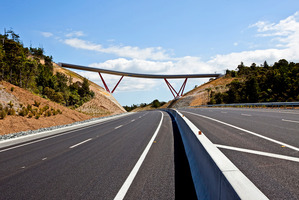 The identities of two women who deliberately jumped in front of traffic and caused injuries to several people, including one pregnant woman and children, are yet to be established by police.
The women were spotted by members of the public jumping onto State Highway 1 north of Warkworth last Thursday about 8.20pm.
The pair sprung into the path of cars travelling north, outside Sheepworld, prompting a driver to swerve and cross the centreline.
The motorist crashed into a car travelling in the opposite direction.
Police said all seven people in the vehicles, including a pregnant woman, were taken to Auckland City Hospital.
Six have been released, but a 10-year-old boy who broke an arm and a leg was still in hospital. He is expected to go home tomorrow.
"We've had plenty of people ring us with information, but as yet we haven't identified the women,'' said Sergeant Blair Atkinson of Waitemata police.
"We're following several lines of enquiry including that they may have been travelling from Thames to Whangarei.''
The women are described as aged in their late 20s, with one wearing a pink top and possibly a hoodie, and the other wearing dark clothing and a dark hoodie. They were both carrying bags which looked like backpacks.
The pair were also seen around the Northcote Road motorway on-ramp on Auckland's North Shore about 5.30pm on Thursday and near Constellation Drive. There were also reports they were walking on the motorway near Silverdale.
Anyone who may have seen the women should contact police on 09 481 0780 or Crimestoppers anonymously on 0800 555 111.
- APNZ