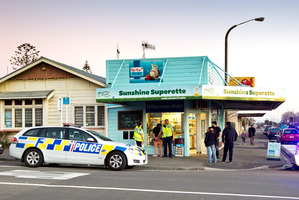 A group of four people wrestled one of two teenagers to the ground, after the pair's failed attempted robbery, using what looked to be a firearm, at a Napier suburban shop.
Sunrise Superette owner Sue Elliott and her friend Daphne Heathcote were working in the Hastings St shop when the two young men came through the door about 5.30pm yesterday.
The two women had been tending to a customer and Mrs Elliott had been holding her five-month-old son when the attempted robbery took place.
"The two guys that came in had masks or scarfs on so we couldn't see their faces. One with a red bandanna had a gun. They went straight for the customer at the end of the shop and pushed him with the gun.
"I remember the customer saying, 'no way'."
The two women reacted immediately and escaped via the rear of the shop to raise the alarm.
They remembered seeing one of the would-be robbers trying to access the till but he was unable to get it open.
"When we got out on to the street and looked around we could see that they had panicked and left the shop, obviously things didn't go to plan for them," Mrs Elliott said.
A friend was across the road at another shop and saw the drama unfold.
"Our friend, he raced after one of the boys and marched him back to the shop to wait for the police. He had the young guy in a head lock and told him to sit and wait.
"In fact there were about four people out there who helped keep the guy down until police got here."
It was believed the second offender managed to escape on a black BMX bike to Marine Parade.
Mrs Elliott said the customer she had been tending to before the attempted robbery, had left the shop before police arrived.
"We hope that he is OK and he comes back as the police may want to speak to him.
"He was right up close to the guy with the gun."
It was the first major incident at the shop in about 10 years and Mrs Elliott thanked the people who had come to her aid yesterday.
"They were fantastic. We are part of this community and we have made lots of friends and met lots of good people who come into our shop. And we just feel like we have been stepped on.
"It's just disgusting. We are trying to make a living and we will be opening the shop as usual."
A police spokesperson confirmed the incident and said the two teenage boys had used what was described as a firearm or pistol, but whether it was genuine or not had yet to be confirmed.
"We are speaking to one person who is being co-operative with us and the inquiry is continuing."