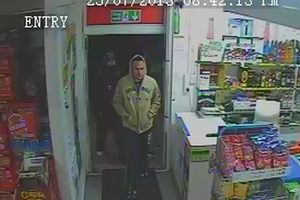 Police are asking for the public's help following an aggravated robbery in the Auckland suburb of Takanini.
The Liquor Bargain store in Princess Street was robbed at 8.45pm last Thursday by two men. One man had a gun and threatened to shoot the shop attendant.
Two victims were seriously assaulted - one suffered a broken jaw and the other was knocked unconscious with injuries to his eye.
The two offenders then took off in a black, four-door Mazda Familia.
Police have security camera footage of the men and want to know if anyone can identify them.