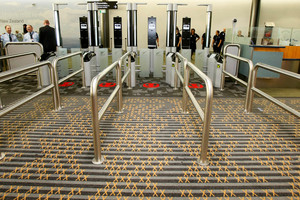 New Zealand Customs will open up SmartGate to United States and United Kingdom e-passport holders on departure.
Customs Minister Maurice Williamson said SmartGate had been successful with New Zealanders and Australians and it made sense to extend it.
SmartGate is Customs' automated passenger processing system, which has been used by six million people since its introduction in 2009.
It uses information in epassports and facial recognition technology to perform customs and immigration checks.
About 50,000 people use SmartGate each week - 22 gates are in operation at Auckland, Wellington, and Christchurch airports for both departures and arrivals.
Customs is currently trialling a prototype of the next generation of SmartGate, called SmartGate Plus, at Auckland International Airport.
SmartGate Plus is a more intuitive one-step concept, where the passport is scanned at the gate, eliminating the need for the kiosk and ticket.
- APNZ