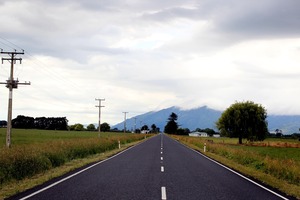 Airbags saved the life of a man and a woman in a high-impact Kaimai Range crash that claimed the life of a man at the weekend, a survivor says.
The driver of a black Rover MG, a Tauranga man in his 50s, was killed when his car and an oncoming Volvo collided on State Highway 29 in the Lower Kaimais at 4pm on Saturday.
The impact sent the Volvo spinning off the road and down a steep bank, coming to rest about six metres below.
Volvo driver Howard Barbour, 57, yesterday said the MG "just popped up in front of us".
"We had just passed a couple of cars when in a split second the MG just popped up in front of us.
"I had absolutely no time to avoid hitting it. The impact was massive."
Mr Barbour said the impact tore the door off his side and he and his wife had to crawl out of the Volvo. Apart from severe bruising from the seatbelts and airbags they escaped serious injury.
"We are absolutely lucky to be alive...I wouldn't want to relive this crash for anything," he said.
He said a woman travelling behind his car was hit by debris flung from the extensively damaged MG, and she had to drive over the MG's gearbox.
Mr Barbour said he had bought the Volvo V40 about seven weeks ago and credited the car's high safety record and airbags for saving their lives.
Two other vehicles were also struck, causing moderate damage to one and minor damage to the other. A total of seven people were involved in the crash.
The driver of the MG died at the scene and three other people were taken to Tauranga Hospital.
Police are still investigating the cause of the crash.
The Bay of Plenty Times spoke to four family members of the dead man at the scene of the accident yesterday.
The family members, from Auckland, said they had come to bless the scene of the crash that had claimed the life of their cousin's husband.
For more articles from this region, go to Bay of Plenty Times