A message on social media shatters an Aucklander's belief that his older brother died 33 years ago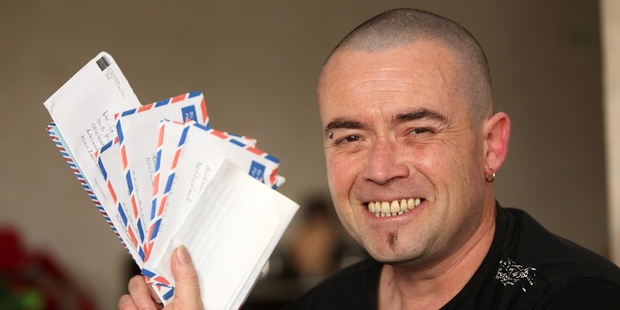 For 33 years, Grant Malkin thought his older brother was dead.
"When I was 7 years old I was told by my father that my half-brother Tony was dead and that he had died of Aids," the now 42-year-old told the Weekend Herald.
But now he is planning a trip to meet his brother after receiving a message through Facebook that shattered what he'd previously been told - his brother was alive and well and living in the United States.
"We are family, I owe him a hug at least," Grant Malkin said of the upcoming meeting.
The brothers have discovered their lives have followed a similar path, Grant Malkin said, even though he could hardly believe it was happening.
"It was quite spooky and mind- blowing and very emotional. Very, very emotional.
"I was very sceptical because for the past 30-odd years I had believed he was dead, but he wasn't, he found me on Facebook.
"We have covered a lot of our family's past, and it's quite funny how our childhoods and growing up have been very similar and parallel in a lot of ways.
"Little things, like growing up we had the same problems in childhood - most of it to do with our father.
"It had the same effect on me as it did on him ... so it was actually quite nice to have someone on the same wavelength to discuss those things with."
He vividly recalls the message two years ago that changed everything. It said: "I'm not sure, but I think that you are my half-brother."
The brothers were born 15 years apart to the same father but had different mothers. Tony was born in England and moved to Australia as a child. Grant was born in Australia while his parents were en route from England to New Zealand.
The family settled in Dunedin and Grant often spoke to his sibling on the phone.
"The last phone call I had with Tony was at Christmas time in the early 1980s.
"He promised that he would try and come over for the following Christmas, and we never saw him or heard from him again."
After that there was nothing for three decades. Grant relocated to Auckland after losing everything in the Christchurch earthquake.
"I had just got up here and within a couple of weeks of getting myself set back up with the internet and everything I got a message from a chappie in Florida in America.
"I thought 'hang on a minute, the name is correct, the spelling of the name is right and the face looks vaguely familiar ...but ...' There were all these 'buts' in my mind."
Tony Malkin, who has lived in Florida for almost 20 years, had lost contact with his father and half-brothers when his father and mother separated.
But he'd always wondered what happened to them and was intrigued when he came across Grant's name on Facebook.
"I thought: 'That's my brother's name'. I had a look and he was from New Zealand and I thought: 'That's my brother'."
He was shocked when Grant told him their father had said he had died many years ago.
Tony Malkin said making contact with Grant was a reconnection he had longed for over the years.
"You don't know what it's like to have a brother who loves you and cares for you.
"We've talked about what we missed out on and how life was and, as an older brother, I wish I was there for him all the times he needed me."
The reunion through social media is becoming a common story, said Brad Argent from ancestry.com.au.
"Stories roll in every day from our members around the world who are not only uncovering their ancestors, but reconnecting with lost branches of their living family trees.
"Social media has made the world a smaller place and family history is making it much more relatable."
The genealogy company is launching a new Facebook app that allows members to integrate their family trees on the website.
Mr Argent is also co-organising the Family History Fair next weekend at Vodafone Events Centre in Auckland.
Additional reporting: Vaimoana Tapaleao