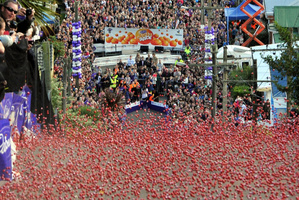 An estimated crowd of 12,000 flocked to Baldwin St in Dunedin today for the 2013 Cadbury Jaffa Race.
The first race, at 12.30pm, saw 25,000 orange Jaffas released at the top of the world's steepest street, with the most enthusiastic Jaffa getting home in just under 30 seconds.
Fifteen minutes later, the second race featured 25,000 lime green Jaffas.
It was a street carnival atmosphere before the event, with stilt-walkers, jugglers and even a life-sized Dalek threading through the crowd.
Small children watched the action from perches on grown-ups' shoulders, while Baldwin St residents had some of the best seats in the house.
The 350m race track has a gradient of 19 degrees, dropping from 100m above sea level to just 10m, and is ratified by Guinness World Records as the steepest street in the world.
It was the thirteenth running of the balls and the event has now raised more than $500,000 for charity since its inception in 2000.
The recipient charities this year are the Make-A-Wish Foundation and The Parents Centre.