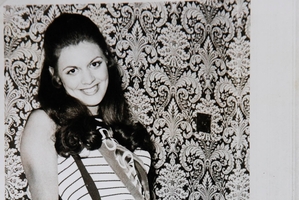 A former English beauty queen has travelled from her New Zealand home to the scene of a crowning glory that helped launch her glamour career 40 years ago.
June Perfect, a 61-year-old from Waikato who once dated football legend George Best, dusted off her Miss Stretford 1973 sash yesterday as she took a trip down memory lane.
"It just feels so very nostalgic and I have really looked forward to coming back here,'' she said as she was welcomed back to Stretford Mall in Manchester by the local mayor.
She was presented with a bouquet of flowers and a photo album which featured an array of photos capturing the 1973 beauty queen competition.
"Winning was a bit of a springboard to other things so it is wonderful to return to the place where I had that special moment in my life all those years ago,'' she said.
An international search was launched last year after the manager of Stretford Mall found black and white shots of the pageant winner while tidying his office.
He turned to local media to help trace the woman in the hope of organising a reunion.
His appeal was spotted by a relative of the mystery model, who was identified as June Perfect, nee Pickering, a mother-of-two and grandmother-of-three now living in New Zealand.
Mrs Perfect, who won around 50 beauty pageants and went on to become a scoregirl on hit TV game show It's A Knockout, jumped at the chance to return to Stretford.
"It takes me back to how it felt back then and it is wonderful to remember that great time in my life after so many years,'' said Mrs Perfect, who moved to New Zealand eight years ago, following her teacher daughter Jodie down under.
Now happily married to second husband Tim and living in Cambridge, she stays busy caring for her grandchildren and spending time with her parents Alan and Vera Pickering, who also emigrated.
- APNZ