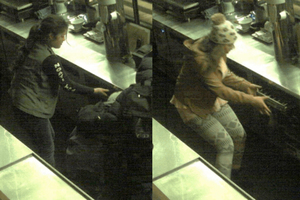 Three teenagers have been referred to the police youth aid service in relation to a brazen theft from a Wellington cafe after Sunday's magnitude 6.5 earthquake.
Images of four people stealing the safe from Mojo State cafe in the State Insurance Tower on Willis St at 12.20am on Monday were captured on CCTV.
The images, which were posted on the cafe's Facebook page, were condemned by social media users - who referred to the offending as "low-life''.
Police said they had spoken to two females and one male, all aged under 17, in relation to the incident.
"The three spoken to have been referred to youth aid,'' police said in a statement.
A fourth individual, who was also aged under 17, had also been identified. A decision was yet to be made on how to proceed with this individual, police said.
Further details on the incident were unavailable from police, but they said a small amount of cash had been recovered.
Mojo State owner Dale Rangihaeata previously told APNZ the safe contained about $1300.
- APNZ