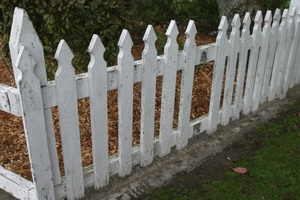 A Clinton man whom a judge described as the "neighbour from hell" was lucky to avoid being held in contempt of court for his belligerent behaviour at a defended hearing.
Graeme Ferguson Simpson, 62, appeared before Judge Stephen Coyle in the Balclutha District Court sitting in Gore yesterday, defending three charges after regularly intimidating and harassing his neighbours for several months.
Simpson was charged with two counts of intimidating his neighbours, Rebekah and James Brown, between August 7, 2012, and September 21, 2012, and insulting language on September 22, 2012.
The hearing began on June 25, but was adjourned until yesterday.
The court heard that until April last year, Simpson and his wife had a good relationship with the Browns, and often looked after their children.
The relationship turned sour after the Simpsons felt the Browns were leaving the children with them for too long, and over unreturned property loaned to the Browns.
Prosecutor Sergeant Grant Gerken said Simpson became upset with the Browns and engaged "in some way" to intimidate them in retribution.
The court was played a video showing the police interview with Simpson. During the 48-minute interview he regularly swore, was rude to the police officer and often turned away, refusing to answer questions.
Throughout the hearing yesterday Simpson interrupted the judge and prosecutor, evading questions and repeating statements. He often swore while giving evidence.
During his testimony, Simpson was warned by Judge Coyle not to swear again or he would be held in contempt of court.
Summing up, Judge Coyle told Simpson he was belligerent and rude to Senior Constable Blair Corlet throughout his evidential interview.
"It was the most offensive interview I have seen in my life."
He said Simpson's behaviour was boorish, bullying, and offensive.
"Your conduct and demeanour in the interview ... was consistent with your belligerent and condescending responses to Sgt Gerken's questions, and at times, the court."
Judge Coyle found Simpson repeatedly intimidated the family by staring at family members on their property or when they arrived or left; aiming his van's headlights at a bedroom during the night and turning the lights on full beam for up to 20 minutes at a time; and leaving the van's door open so a continual beeping could be heard at night.
He also found Simpson guilty of using threatening language after he stared at the Browns' property in an intimidating manner, had yelled at a visitor to the Browns - a man of Chinese descent - that "the Chinese are invading us" and "get out, you Chinese buggers".
Last month, the visitor, known as Max, said he was "quite shocked" by what Simpson said, and feared for several hours Simpson would come over the road and attack him.
Judge Coyle rejected Simpson's defence that the Browns must have also been watching him and his home, that he turned on the vehicle lights at night so his injured wife could see the path into the house and that various witnesses were mistaken about who had been standing at the window at times, as it was often his wife looking out and not him.
He said Simpson was evasive while giving evidence and often said he could not remember rather than outright denying the prosecutions evidence.
Defence counsel Carmen Jillett said the Simpsons had since sold their house, and planned to move back to Mataura next month.
Judge Coyle said the Simpsons' decision to leave Clinton was the "best solution for everyone".
He was convicted on all three charges, ordered to pay $1000 emotional harm reparation ($400 to both "Max"and Mrs Brown and $200 to Mr Brown) and witness expenses of $200.
"Bulls... It's not going to happen," Simpson muttered as he left the courtroom.
Attempts to contact the Browns yesterday were unsuccessful. They were not in court yesterday.