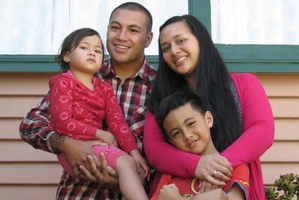 The mother and sister of a rugby player who died after a head injury at a weekend club game are devastated they did not make it to his bedside to say goodbye to him.
Viliami "Willie" Halaifonua, 27, died in Auckland City Hospital on Tuesday night, three days after he suffered a brain bleed after several knocks to the head during a match on Saturday.
His partner, Turea, and family were at his side.
---
Send your tributes for Willie Halaifonua here.
---
Mr Halaifonua, who is survived by his young children Julius and Leila, was named player of the day moments before he fell to the ground unconscious at the end of the premier division match between his Takapuna club team and Massey at the Onewa Domain.
He underwent emergency surgery but his injuries proved fatal.
Mr Halaifonua, known to his family as Ami, was born in Tonga but moved to New Zealand to live with extended family as a youngster.
Upon learning of his injuries, his Tonga-based mother and sister arranged to travel to Auckland, but he died before they could get to him.
They were due to arrive last night to spend time with him and the rest of the family.
"I've had my fair share of crying. Can't wait to see you later on bro," sister Tina Halaifonua wrote on Facebook.
Sione Vaea Taione sent the Herald a tribute to his cousin: "You have shown us the way; to have a good heart, to enjoy life, and more importantly, to be humble. I visited you yesterday morning at the hospital, standing by your side with loving tears flowing freely ..."
Mr Halaifonua's Takapuna teammates gathered together yesterday.
Club chairman Simon Cheesman said Mr Halaifonua was a popular team-mate whose partner and children were always seen at the club.
"Off the field, he was a humble man," Mr Cheesman told 3 News.
The game was captured on video and that footage was now being carefully analysed as part of a review into what happened to Mr Halaifonua.
It is understood a team doctor examined Mr Halaifonua after an initial collision and he was allowed to play on. Mr Cheesman said: "Willie was saying, 'Give me the ball'."
North Harbour Rugby Union head Brett Hollister said at no stage of the game were there signs that Mr Halaifonua had suffered concussion.
Coach Adrian Donald added: "A very sad day for the club and rugby community. He had such a big future ahead of him."
Ponsonby Rugby Club, where Mr Halaifonua previously played, revealed their director, All Black great Bryan Williams, visited the hospital on Monday. "Willie has been described by friends and team-mates as a gifted yet modest sportsman and was totally devoted to his partner and his children," a spokesman said. "On the field, he was a committed team man and always leading by example."
Tributes and messages of support poured into the Herald yesterday.
Leonale Bourke said: "Brother, I was right there fighting with you. You fought and fought right till the end."
Richard Tonga said: "Taken way before your time, Willie my bro. A great family man, father, partner, team-mate and friend. Always smiling. It was an honour to know you and do battle alongside you."
Lagi Rabo said Mr Halaifonua was "a man of few words and a huge heart of love".
Rugby Union chief Steve Tew said the NZRU extended "deepest sympathies".
Mt Roskill Grammar School principal Greg Watson said Mr Halaifonua was a member of the 1st XV team that won the 1B competition in 2001.
"MRGS director of sport Ben Horne, who played in that team with William, fondly remembers his epic ability on the rugby field, immense power and speed for such a big guy, yet his gentle giant nature off the field."
He had offered strong advice to students from his neighbourhood barbers shop.


A trust has been set up for Willie Halaifonua's grieving partner Turea and two young children, Julius and Leila.