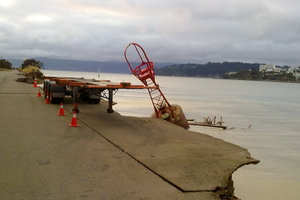 A large section of seafront collapsed into the harbour following the 6.5-mag earthquake in the Cook Strait. Photo / Captain M H Pryce, Regional Harbourmaster Wellington
Buildings in Wellington's central city continue to be assessed for structural damage in the wake of a powerful earthquake that hit the middle of the country yesterday.
The 6.5 magnitude quake, which struck in the Cook Strait just after 5pm, shattered windows, damaged facades, cracked a road and caused reclaimed waterfront land to fall into the harbour.
Click through the photo map above to see some of the damage to the city.