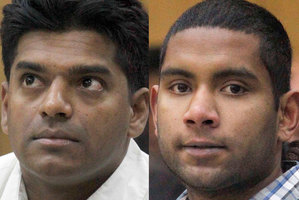 The fate of two men charged with murdering Canterbury dairy farmer Sameera Chandrasena Battelage boils down to 'Who is the liar?', a court heard today.
Co-accused Thuvan Prawesh Sawal, 24, and Viraj Alahakoon, 35, blame each other for cutting the throat of their friend who had been having an affair with a woman they knew.
"One is a monumental liar," Pip Hall, QC, lawyer for Alahakoon said in his closing submission today.
Mr Battelage's badly charred body was found in his burning farmhouse on Domain Rd, just outside Oxford in North Canterbury, on February 23 last year.
Sawal claims he witnessed Alahakoon cut the throat of Mr Battelage "like a sheep" as he slept, in a murderous, jealous rage after learning of the affair.
But Alahakoon's story is that Sawal woke him shouting, holding a blood-soaked knife, with Mr Battelage lying dead on the couch.
The Crown, however, contest that both men had plotted to kill the farmer in revenge for the affair.
It summed up its case earlier in the week at the High Court in Christchurch, saying the two accused helped each other stab or cut Mr Battelage's neck six times before dousing his body in petrol and setting it alight.
The court has heard that Mr Battelage was surprised when the pair showed up at his rented rural property on the evening of February 22, last year.
Alahakoon, who'd just been laid off as a jeweller, and Sawal, who was an overstayer with a warrant out to send him back to his native Sri Lanka, say they wanted to confront him over the affair.
Alahakoon claims he wanted Sawal to confront Mr Battelage over the illicit sexual relationship, warn him away from the woman, and to "perhaps extract an apology", Mr Hall said.
The three men drank at Oxford Working Mens Club before returning to Mr Battelage's house.
The jury will be asked by Justice Christian Whata later today to decide what happened from when they returned home, to when Mr Battelage's body was found by firefighters inside the still burning house on the morning of February 23.
Alahakoon and Sawal were soon arrested and charged with murder and arson.
Mr Hall says Alahakoon lied to police out of his own safety after threats from Sawal.
"He was simply following orders, that's why he misled police," Mr Hall said.
He urged the jury to find Sawal as "the throat cutter", and from there, they could establish that everything else he had said amounted to "a tissue of lies".
Who was lying could best be answered by evidence by ESR scientists, who explained how blood came to be on Sawal's clothes, as well as what fire experts and pathologists said.
"Prawesh Sawal was the perpetrator, not the saviour as he's been portrayed," Mr Hall said.
Alahakoon is also charged with assaulting a woman, who has name suppression, with a pair of scissors on December 5, 2011, and again on Boxing Day that year.
The trial continues with Justice Whata to begin summing up around noon today.
- APNZ