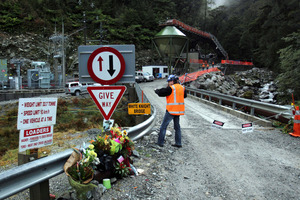 Pike River families are again pushing for a re-entry to the mine, hoping that an examination of the scene of the disaster could lead to someone finally being held accountable for the 29 deaths.
They are also considering mounting civil action after the police last night ruled out laying any charges arising from the November 19, 2010 underground explosion.
Police fronted up to a meeting of about 50 family members, who sat in silence as Detective Superintendent Peter Read announced there was insufficient evidence to lay manslaughter charges.
His team interviewed 282 people, collected 25,000 pages of witness statements, and amassed 34 million pages of documentation. They had seriously considered laying criminal nuisance charges, and looked "very closely" at former mine manager Doug White and chief executive Peter Whittall.
He said there was enough evidence for criminal nuisance charges but that raised double jeopardy issues as Mr Whittall was already being prosecuted by the Ministry of Business, Innovation and Employment.
Pike families' spokesman Bernie Monk said he had his two-weekly meeting with mine owners Solid Energy today, and they hoped everything for re-entering the mine drift would be settled by the end of August.
After last night's decision, a scene examination was the families' only hope of a prosecution, Mr Monk said.
"That's the gap in the door."
West Coast-Tasman MP Damien O'Connor backed the push for a re-entry, hopefully to find evidence.
He also said he felt the Department of Labour's role leading up to the disaster had been overlooked, noting that while staff were under-resourced, they had a "moral responsibility". Whistleblower legislation would have protected them, had they spoken out.
"The first priority is to get to the men. The second is to get evidence. It's about accountability, not retribution," Mr O'Connor said.
Colin Smith, a Greymouth lawyer acting for some families, said they were now considering their options, including the possibility of civil action.
He said there was a "sadness" at the lack of accountability.
"Especially when the disaster was avoidable, so totally avoidable."
Mr Smith said there should be a charge of corporate manslaughter: "Companies can't be held criminally liable (now)."
Although the Royal Commission of Inquiry favoured a roof collapse, release of gas and subsequent electrical spark as the cause of the explosion, other theories could not be ruled out, and the big problem was that no one had been able to get inside the mine to examine the scene.
Meanwhile, Mr Read said that if they ever got back inside the mine the scene could be examined, but there was no certainty that would produce new, relevant information.
There was "general acceptance and ample evidence" of widespread departures from accepted standards of mine operations. However, there was insufficient evidence to support the laying of manslaughter charges, due to the lack of any causative link.
Mr Read told the Greymouth Star that former mine chief executive Gordon Ward, who did not appear before the Royal Commission, did co-operate with the police inquiry and give an interview.
Whittall's charges under health and safety legislation are expected to reach court in Wellington early next year.