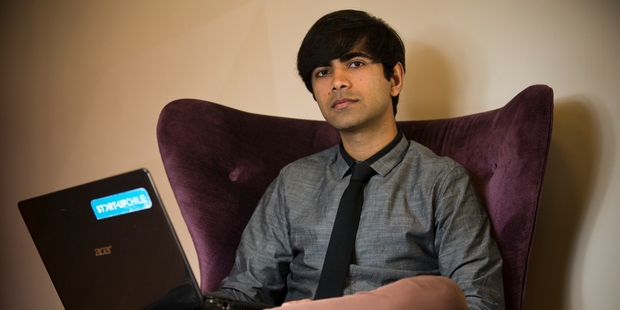 Pravin Daryani has turned a challenge faced by many businesses - producing quality content for their websites - into an opportunity.
The Auckland-based entrepreneur launched ContentForest, an online software platform, in December.
Businesses can use the service to source and manage content, such as blogs and articles, produced by professional writers and editors specifically for their websites.
"It's the whole content production problem that we're trying to solve right now," said Daryani, who originally hails from India's commercial capital, Mumbai, but has been living in New Zealand for the past four years.
"Our brand publishers [the firms using the service] can manage their content production through the platform."
The 25-year-old said his ultimate vision was to "make one platform for content creators and publishers to produce, optimise, distribute and monetise their content".
ContentForest was already being used by just over 400 businesses and had a team of around 300 freelance "content creators" on its books, Daryani said, adding that almost all of the writers and firms using the service were based in the United States.
The company charges a minimum of US$80 ($101.50) per article, but is looking to introduce a monthly subscription that Daryani said would provide a more sustainable long-term business model.
While it was still early days, he said ContentForest had brought in about US$30,000 since December.
The platform was built while Daryani was taking part in Start-Up Chile, a business accelerator programme established by the Latin American country's Government.
Software developers from Venezuela and the US were contracted to create the technology.
And in a couple of weeks Daryani will be packing his bags again.
He's heading to the US to take part in KLP8, a programme run by the Kiwi Landing Pad - a base of New Zealand businesses in San Francisco - that immerses local entrepreneurs in the Californian city's innovation culture for a month, giving them a chance to learn new skills and build contacts.
Despite most of ContentForest's clients being located in the US, Daryani said it would be his first visit to the country.
"This is the best time I could be going," he said. "The whole focus will be to make sales and get more clients."
Kiwi Landing Pad managing director John Holt said content marketing was a "hot space" and many firms were willing to spend money on quality content for their websites.
"With so much junk mail flying around the internet, the challenge for a lot of companies is to stay front-of-mind with customers," he said.
Holt said the KLP8 programme - named after Air NZ 8, the national carrier's flight to San Francisco - was funded by Kiwi Landing Pad and the Ministry of Business, Innovation and Employment.