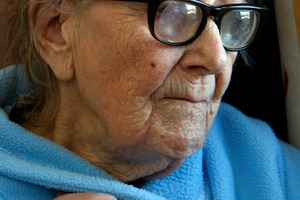 Feisty 92-year-old Pearl Sanger has one simple question for the thieves who broke into her home, stole a television and cash, then set her house alight: "Why?"
"Why do it? That's the question in my mind. What do they get out of it?" she asked from her Whangarei Hospital bed yesterday.
Wrapped up in her light blue dressing gown, Pearl said she was at a loss to understand the actions of the thieves.
"It's not their house but they burned everything.
They got a television and cash ... that's it. It's so mindless. I can't understand."
Pearl was due home on Monday after a week in hospital for a chest infection but early that same morning her house on Boundary Rd was broken into.
A fire was lit in the bedroom where she stored most of her dresses.
The slow-burning fire engulfed a bed and the blaze was so intense it burned a hole in the floor.
The rest of the house was badly smoke-damaged, with a layer of soot covering all her treasured photos and ornaments in the lounge.
The once-sparkling kitchen bench was covered in a film of black soot.
"They ought to get their just desserts," she reckoned.
"There wasn't a lot of money in that yellow elephant [money box] but I set aside a little bit so if there was anything I needed I could buy it."
While she was putting on a brave face and saying "I've just accepted it and it's no good crying about it", she was devastated by the news.
Pearl's hopes of returning home are now months off.
Her nephew, Ray Broad, said Pearl had sobbed her heart out when he told her the news.
He said it was likely she would go to a rest home for a few days when she was released from hospital.
Insurance would then cover the cost of a rental or motel, Mr Broad said.
Pearl wasn't shy when it came to describing her desire to get home. "The worst thing of all is that bed," she says casting a glance at the hospital bed.
"I can't abide it."
The incident has left a sour taste in the mouths of local residents in Boundary Rd, Tikipunga.
Neighbour Donna Yorke said she had lived across from Pearl for seven years.
"She has always been lovely, and fluffs over my little daughter. I'm devastated for her and we are not happy this has happened in our street.
Someone has been so gutless to do this to an elderly woman in hospital," Mrs Yorke said.
Police were continuing to follow up on reports of two young people seen acting suspiciously around the house on Sunday evening.
Anyone who can help police with this investigation should contact Constable Gordon Romley at Whangarei police station on 09 430 4500 or on the Crimestoppers line 0800 555 111.
For more articles from this region, go to Northern Advocate