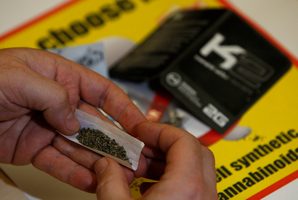 A Nelson dairy has been suspended from selling Lotto products after allegedly being caught selling legal high products.
New Zealand Lotteries demanded 600 retailers stop selling party pills and synthetic cannabis alongside Lotto products from July 1.
"They have been temporarily suspended while we conduct an investigation," Lotto spokeswoman Emilia Mazur said.
The suspension was currently indefinite. However, Lotto was hoping to reach a solution with the retailer this week.
Lotto was alerted of the offending retailer by local paper The Nelson Mail, Ms Mazur said.
There had been no other alerts of Lotto outlets selling legal high products.
The ban had been received "generally really positively", Ms Mazur said.
A select committee is expected to report back this week on a bill which would ban all unsafe synthetic drugs from August.
Temporary bans are in place for 33 substances including the synthetic cannabis brand K2, however the bans are set to lapse in August.
- APNZ