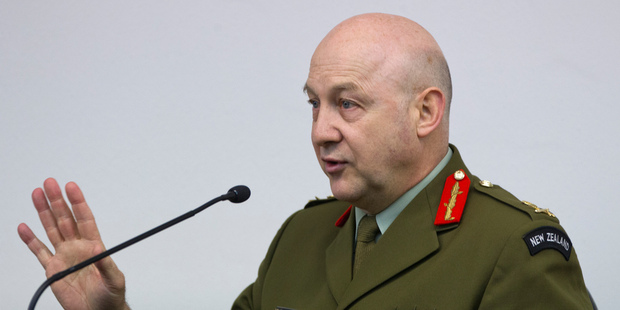 The head of the New Zealand Defence Force, Lieutenant General Rhys Jones, has admitted a public statement he made contradicting facts in an article by journalist Jon Stephenson was based on inconclusive information.
General Jones, who is being sued by Stephenson for defamation regarding points he made in his statement, accepted in court today he was not completely sure of the facts before the statement was posted on the Defence Force website.
Stephenson is seeking $500,000 and costs.
The case, which is being heard at the High Court in Wellington in front of a jury, relates to two articles written by Stephenson during 2010 and 2011 regarding the treatment of Afghan detainees by New Zealand soldiers.
The 2011 article, which was published in Metro Magazine, described how SAS soldiers transferred Afghan detainees to authorities who tortured them.
Stephenson, a freelance journalist who has reported extensively from Afghanistan, said he wrote both articles based on an interview with the commander of a crisis response unit (CRU) in Afghanistan.
After the publication of the Metro magazine article, a statement from General Jones was posted on the Defence Force site denying any meeting between Stephenson and the commander in question - referred to as Colonel B - ever took place. It also stated that Stephenson had never entered the base.
The statement was taken down last week.
This followed evidence given in court from Stephenson which revealed specific details about his meeting and the base.
Under cross-examination today, General Jones said the 2011 statement had been made based on information collected from Defence Force sources.
The information collected from various sources like soldiers indicated that it was "95 per cent" likely the meeting did not take place, he said.
Further rounds of enquiries aimed at gathering more information were designed to increase the percentage, General Jones explained in court.
When asked by Stephenson's lawyer Davey Salmon why he had recently accepted Stephenson's meeting on the CRU base did take place, General Jones said hearing the journalist's evidence in court last week prompted the change.
"It was a case of saying 'okay let's see what he has to say about that'," General Jones said.
Further questioning by Mr Salmon led General Jones to say that a public statement regarding the fact he now accepted the CRU meeting took place would be made once the trial had concluded.
"We will be putting a statement up saying we accept that he went to the base and met Colonel B," General Jones told the court.
He also addressed Stephenson directly from the witness box to confirm this.
General Jones is expected to give further evidence tomorrow.
- APNZ