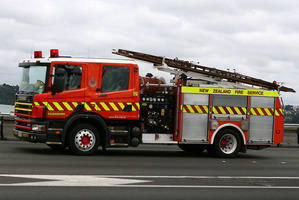 A suspicious fire at the former Kaitaia Timber Company mill has razed one building and badly damaged three others.
The blaze, just after 4am yesterday, started in the old tanalising plant, sparking fears of chemical contamination.
Kaitaia residents have been urged to keep out of the Pukepoto Rd site and asked to call police if they saw anyone at the old mill on Saturday night or early Sunday.
It was the fourth fire since March at the mill, which closed in 2005 with the loss of about 60 jobs.
Kaitaia deputy chief fire officer John Whitlow said the building was burning fiercely when the first crew arrived.
Fire investigator Craig Bain said one building was razed and three others were badly damaged.
The fact there was no power to the site, and that it was just the latest of a series of early morning fires at the mill suggested it had been deliberately lit.
"It didn't catch fire by itself," Mr Bain said.
The site had been used as a wrecker's yard until 40 car bodies went up in flames early on June 12.
In April, a Portacom-style cabin used as a smoko room was destroyed by fire.
In March a car body was set alight.
For more articles from this region, go to Northern Advocate