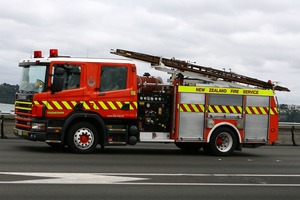 A woman will appear in court today after a suspicious Invercargill house fire where firefighters pulled out an unconscious occupant.
The 49-year-old has been charged with arson after the Princes Street blaze early on Friday.
She is due to appear in the Invercargill District Court.
Police today thanked the public for their assistance in their investigation.
Emergency services were called to the fire in an old single-storey villa at 2.46am on Friday.
Invercargill Fire Service senior station officer Gordon Rodgers said they heard a scream from inside when they arrived.
Firefighters managed to get in through a back door, but by the time they got to the woman she was unconscious.
They dragged her out and performed CPR until ambulance paramedics arrived.
She had regained consciousness by the time she left for Invercargill Hospital.
Mr Rodgers said there was no doubt the woman would have died if firefighters had not arrived when they did.
- APNZ