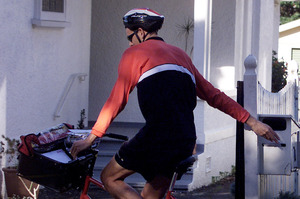 More than 150 posties have been attacked by dogs in one year while delivering mail across New Zealand - including one who got on the wrong side of an ankle-biting Jack Russell on the run.
Figures released to the Herald by New Zealand Post show that between August 2011 and July 2012, 153 posties were attacked by dogs while on the job.
Of those, 27 posties needed medical treatment.
The figures came just days after an Auckland businessman was convicted of owning a dog that attacked his local postie.
Athol John Armstrong admitted the charge, brought by the Auckland Council, when he appeared in the North Shore District Court on Wednesday.
The court heard that on February 7 Armstrong's dog Miki - a Jack Russell terrier-cross - escaped from the garage of his Pinehill home and bit a postie on the ankle.
The postie, who was not named in court, suffered minor injuries and required medical treatment, including a tetanus injection.
The dog got out because a relative of Armstrong left the garage door open by mistake, his lawyer said.
Judge Roy Wade said the incident was unfortunate.
He was satisfied that Armstrong's property was "adequate" to keep Miki contained, and it was unlikely there would be any repeat offending.
Judge Wade said Armstrong, who is the general manager of Novus windscreen repairs in Auckland, had never appeared before the courts for "personal" offending.
He fined Armstrong $750 and ordered him to pay court costs.
He did not think it necessary to make an order to destroy Miki, saying the dog had never shown any aggression in the past.
The Auckland Council, which laid the charge against Armstrong, did not ask for a destruction order.
Armstrong said his situation was "unusual".
He did not want to comment any further.
New Zealand Post spokeswoman Jaimee Burke said the company took the safety of its posties seriously.
She said the postie bitten by Miki was unable to finish delivering the mail that day.
"When a postie is attacked by a dog New Zealand Post provides support to them via our health and safety protocols. In this case, the incident was reported to the council," Ms Burke said.
"We have found the majority of dog owners are very responsible and we applaud those who keep their dogs properly controlled and those who respond responsibly after an attack."