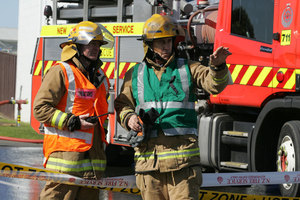 Two buildings in the North Island have been gutted by fire this morning.
Fire fighters had to be decontaminated for asbestos following the first one which destroyed a depot building in Mangakino in Waikato.
The blaze on Lake Road broke out just before 3am and totally destroyed a depot building.
Fire Service northern communications shift manager Jaron Phillips says fire fighters used an aerial attack to extinguish the blaze.
"There has been some concern for asbestos that was in the building so fire fighters have been decontaminated," he said.
Mr Phillips says there was another fire at the Kaitaia Timber Company.
He says a number of crews from around the Far North attended.
"This building also was well involved in fire, has been seriously damaged to the extent it actually collapsed."