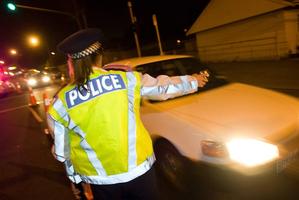 Driving home drunk from a community meeting on alcohol related issues has cost a Canterbury man his liberty for four months.
Repeat drink-driver Campbell Geoffrey Armstrong blew more than twice the legal limit when he was stopped while riding a BMW motorcycle on the main street of Kaiapoi about 7.30pm on June 4.
The 39-year-old had three previous drink-driving convictions and Judge Emma Smith told him at his sentencing in the District Court today his breath alcohol recording of 1082mcg/l was "extraordinarily high''. The legal limit in 400mcg/l.
"No doubt you must have known you were driving drunk,'' she told the former concrete worker from Waikuku Beach, 25km north of Christchurch.
"You are a clear danger to yourself and all of us who use the roads. You are a selfish man in that regard.''
Armstrong pleaded guilty at his first appearance last month when the Rangiora District Court was told he had been drinking at home before going to attend a community meeting on alcohol related issues in Kaiapoi.
Police said he was stopped after an anonymous tip-off that he might be driving while intoxicated.
Today, Judge Smith said Armstrong's three previous drink-driving convictions - the last more than seven years ago - had made "little difference to the recidivist nature of your offending''.
She sentenced him to four months' community detention, 100 hours of community work and imposed 12 months' intensive supervision. He was also disqualified from driving for 18 months from today.
Defence lawyer Donald Dickson said Armstrong was "under no illusion about his incredibly stupid actions on this occasion''.
He said Armstrong acknowledged he had put the public at risk "and his relationship at risk again''.
Mr Dickson said Armstrong had lost his job after being ordered not to drive while on bail after his first court appearance, but was now being interviewed for a new job.
"The press coverage has lost him some friends who have supported him in the past,'' he said.