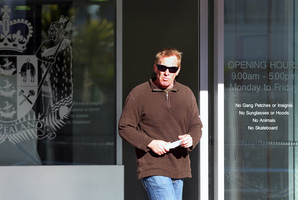 A man who used a video camera to secretly film a young girl and up the skirts of women has been sentenced to home detention at a property only a few hundred metres from a Hastings primary school.
Richard John Snook, 42, was sentenced at the Napier District Court on Tuesday to four months' home detention, after pleading guilty in May to four charges of making an intimate visual recording. One person filmed was a girl aged about 10 and naked from the waist down, who he had covertly filmed near the Tom Parker fountain in Napier. The camera had also been used to film under women's skirts and dresses around shops on Emerson St.
The home detention address Snook was sentenced to is only a few hundred metres from Raureka School on Gordon Rd, Hastings.
When contacted by Hawke's Bay Today, principal Greg Riceman said he was not aware of Snook's proximity to the school.
"It is a concern to us. We'd like to know from the courts, the police, whoever, that this person is around the area so we can inform the community that our kids need to be kept safe. I think everyone would like to be informed so we can try and keep our children safe.''
In sentencing, Judge Geoff Rea said Snook was not eligible for community detention and a prison sentence was a "very close-run thing''. Snook was required to attend alcohol counselling and undergo a psychological assessment.
A Corrections' spokesperson said: "We cannot comment specifically on individual offenders, however, note that public safety is Corrections' top priority and the role of the probation officer is to hold offenders to account and manage them to comply with their sentences and orders, reduce their likelihood of re-offending, and minimise their risk of harm to others.''
Lower North Community Probation operations manager Matire Kupenga-Wanoa said the suitability of a home detention address was considered on an "on-going basis''.
"Factors that are taken into account when assessing the suitability of a home detention address include the nature of the offending and assessing risk of harm to the offender or any occupants residing at the home detention address. If we have any concerns about the suitability of the home detention residence, we are able to apply to the court to vary the address.''
For more articles from this region, go to Hawkes Bay Today