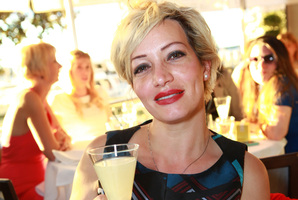 An Auckland businesswoman alleged to be at the centre of a $9.2 million mortgage ramping scheme that involved her siblings and friends is expected to enter a plea at her next appearance.
Ellie Stone, 44 - also known as Eli Devoy and Eli Ghorbani - faces Serious Fraud Office (SFO) charges with six others in relation to 11 Auckland properties.
They appeared at the Auckland District Court today where Stone's lawyer Simon Lance said there was a ``mountain'' of disclosure to go through.
SFO prosecutor Todd Simmonds said he expected pleas to be entered at the next court appearance next month.
According to the SFO, the defendants are all friends and family of Stone. Three are her brothers, one is her brother-in-law and another is her sister-in-law.
Stone, of Remuera, is the primary defendant in the case where the SFO alleges false documents and information were used to deceive banks into providing mortgages between 2007 and 2010.
Some of the 11 properties were bought and sold more than once.
Stone was involved in all transactions in the scheme and in some instances was the true owner of properties bought in the names of co-defendants, the SFO claims.
It is alleged the $5.8 million worth of loans were obtained with the use of false information while the total property obtained in the alleged offending was $3.4 million. The SFO says Stone was the main beneficiary of the scheme and netted nearly $475,000 from the deals.
In one instance she is alleged to have provided documents to the bank to get a mortgage, saying the loan applicant was working fulltime for a company directed by one of the defendants.
However, the SFO claims this was untrue and the applicant was receiving no such income. Instead, deposits were made by one of the defendants into the applicant's account to make it look like a salary was being paid.
A loan of $302,700 was granted.
In another instance, it is alleged Stone applied for a mortgage in her sister's name and as part of the application stated her sibling worked at a hair salon.
However, the SFO says no income was received from this salon and false payslips were provided in support of the loan application.
A loan of $225,600 was given to Stone to purchase a property in Kelston, West Auckland.
In another case, the SFO alleges Stone obtained power of attorney over an associate who didn't speak English and applied for a loan without her consent.
Stone is said to have used false bank statements as part of this application where a loan of $248,000 was granted to purchase an Onehunga property in the woman's name.
Stone faces 26 of the 48 Crimes Act charges laid by the SFO, which include obtaining by deception, dishonest use of a document and using forged documents.
The other defendants are: Mehrdad Ghorbani, Mehran Ghorbani, Nasrin Kardani, Mehrzad Ghorbani, Hassan Salarpour and Javad Toraby.
All have been remanded on bail.
- APNZ