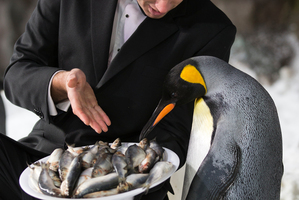 Waiter Darren Cross offers some fishy haute cuisine to a king penguin at Kelly Tarlton's. Photo / Greg Bowker
More than 70 penguins dined like royalty this week as they enjoyed the "sub-zero house-warming" of their redeveloped enclosure at the Kelly Tarlton's Sea Life Aquarium.
An appropriately dressed waiter joined the 43 Gentoo penguins and 29 king penguins and served multi-coloured fish cakes to the birds inside their freezing residence.
The two groups of birds have adapted so well to their revamped surroundings that staff decided to throw them a welcome party. The new layout has replaced the snow-cat ride, which means visitors can now walk through the enclosure and spend more time watching the penguins. Last year, 10 healthy baby penguins were delivered at the aquarium - seven Gentoo and three king penguins.