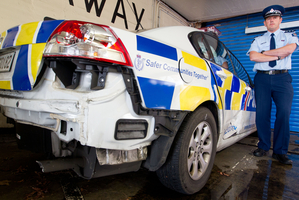 A police officer who was trying to stop a stolen vehicle with four teenagers inside was injured when his patrol car was repeatedly rammed by the group.
The Auckland officer was working with his colleague overnight when the incident occurred in Grey Lynn.
The two officers, who had been co-ordinating with the police dog unit, had tracked the vehicle following an earlier incident of aggravated robbery in the city.
The pair were planning to use road spikes but were unable to set them before the vehicle arrived.
Police said the fleeing vehicle was being driven at speed and directly at one of the officers, who quickly returned to his patrol car.
As he tried to reverse out of the way, his car was hit three times.
The patrol car was seriously damaged and the officer suffered neck injuries.
The officer had also been involved in the pursuit of former soldier Caleb Dean Henry, who died after a shootout with police on the northern motorway early on Monday.
The latest incident occurred one day before the fifth anniversary of the death of Porirua Sergeant Derek Michael Wootton.
Mr Wootton was killed while setting road spikes during a pursuit in Titahi Bay.
Inspector Vaughn Graham said the outcome of last night's incident could have been far worse.
"Had the stolen vehicle reached the intersection seconds earlier, it's likely our officer would be seriously injured or worse.
The four involved in the incident were found later in south Auckland after a later road spike deployment. They allegedly assaulted a group of youths in Victoria St in the city in an attempt to steal iPhones, police said.
Four teens, aged between 14 and 17, were to appear in the Auckland Youth Court today on charges relating to stealing a vehicle, assault and robbery.
The 15 year-old driver of the car would be charged with assault with a weapon as well as other driving offences, police said.
- APNZ