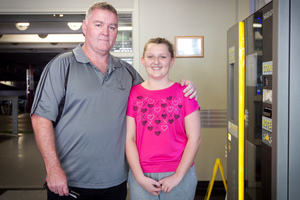 Charging $3 for a 20-minute hospital visit is profiting from people's suffering, says Scott McGill.
The Wellingtonian's 9-year-old daughter is in Starship hospital for a heart operation.
Mr McGill said Auckland District Health Board's parking prices were "making money out of misery".
"The purpose of parking here is because you're visiting someone in hospital - you're not off having fun," he said.
"But there's nowhere else to park."
Mr McGill said he expected to pay, but the operators should not be charging that much.
For multiple family members visiting one patient, the cost of parking quickly adds up.
A man whose son badly injured himself falling off a roof a year ago said the amount he, his wife and his son's girlfriend paid to park at Auckland Hospital was a "small fortune".
The man, who did not want to be named, said they took turns visiting his son and he usually stayed about four hours.
His son was in hospital for about three weeks.
All were travelling from different parts of the city and it was impractical for them to travel together.
"Eighteen dollars a day isn't that bad, but when you're there seven days a week, it adds up."
Nida Jafer said the parking fees should be subsidised because "we pay enough in taxes".
The Remuera woman paid $6 for a two-hour visit to the hospital because her 12-year-old daughter, Mariam, will have an operation on her ear next week.
Ms Jafer supported paying a fee to park there because it was convenient and otherwise people would abuse it. "Not everyone can afford to pay these fees, though ... I think they should maybe be subsidised."