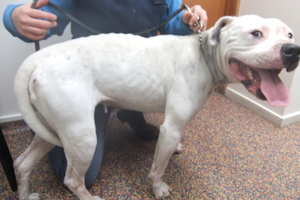 A severely emaciated dog found wandering with four layers of metal chain wrapped tightly around its neck has been rescued by dog control officers.
Buller District Council senior animal control officer Tracy Judd said she was called to pick up the American bulldog, which was wandering near Westport last Friday.
She said the dog was in an extremely poor condition and had four layers of chain taut around its neck, secured with a D-bolt.
Mrs Judd said the chain was so tight she couldn't even get her fingers underneath to free it, and had to use pliers instead.
The dog was also in such poor health she immediately took it to Buller Vets.
A vet confirmed the dog was severely underweight and had several inflamed wounds on its gums, possibly from chewing on something which damaged its mouth.
It was also covered in wounds, believed to be pressure sores. However, the sores did appear to be healing, said Mrs Judd.
The dog had no registration tag and had not been microchipped. It was believed to be between two-and-a-half and three years old.
Ms Judd said she was horrified by its condition.
"This is one of the worst cases I have seen. I could see every vertebrae and rib on this dog. She had been mistreated for quite some time, but despite this she has a loving, trusting nature."
The dog would now undergo treatment and care with the view to finding it a new home.
Mrs Judd said animal control staff were keen to hear from the dog's owner, or any information from the public that could help identify the owner.