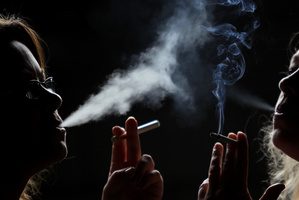 Whangarei legal high outlets say e-Cigarettes containing synthetic cannabis could be the future of the industry in the face of new legislation aimed to combat the effects.
The Psychoactive Substances Bill is expected to pass its third and final reading this Thursday and become law the week after.
It will see all legal highs removed from dairies and non-specialist shops and ban the sale to, and possession and consumption by, people aged under 18.
The law will also force manufacturers to prove their products are safe and list all ingredients on the label, and gives councils new powers to restrict sales in their communities.
The owner of the Brew Store, a vendor of legal highs, says he understands manufacturers have conducted focus groups and are ready to put out new products once the bill is passed.
The man, who did not want to be named, said he is confident he can shift the stock he has before the bill outlaws them.
"We're not going to have a fire sale, we won't do anything silly like that."
He said he never keeps a huge amount of stock, as it could tempt thieves.
His shop would be classified as a specialist store under the legislation, and he would ensure it complied with the new law that the stock would not be visible from the entrance.
Another retailer in Whangarei, who also did not wish to be named, said he would also be applying for a licence to sell.
They had both heard that e-Cigarettes for synthetic cannabis are in the making and could be on the shelves after the bill has passed.
The Ministry of Health was working with police to develop a system allowing retailers to safely dispose of leftover stock.
Retailers who flagrantly flouted the new law could be handed prison sentences or fines of up to $500,000.
Meanwhile, Whangarei police believe a man they arrested for allegedly smashing a ranch slider at his home while they attended a nearby house on an unrelated matter was high on synthetic cannabis.
Sergeant Howard Clement said police went to an address in Otangarei about 8.55pm on Sunday June 30 to speak to a resident.
However, Mr Clement said, as police were at the address a man from a nearby home was observed extremely intoxicated and yelling abuse at Black Power gang members.
The man was repeatedly opening and closing a ranchslider at his home with such force that it smashed.
Mr Clement said the man then picked up the ranchslider and threw it on to the floor.
A 41-year-old was arrested and charged with intentional damage. Mr Clement said synthetic cannabis was found and police believe the man was under the influence of the legal high.
For more articles from this region, go to Northern Advocate