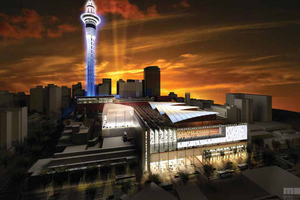 Legislation for SkyCity to build a controversial $402 million international convention centre in Auckland has been introduced to Parliament.
The New Zealand International Convention Centre Bill will have its first reading on Thursday.
It follows the signing of the final agreement on Friday night between the Government and SkyCity.
Under the deal, SkyCity will be allowed to add 230 pokie machines to the 1648 it already has.
The casino will also get extra automated table games and a 35-year extension to its licence, and the casino operator has agreed to additional gambling harm reduction measures. The concessions are worth up to $527m over the lifetime of the deal, according to analysts estimates.
The Government says the 3500-seat convention centre is worth about $90m a year to the Auckland economy, but gambling opponents say it will result in as much as $6.6m a year in problem gambling related costs.
The bill outlines agreed regulatory concessions under the agreement to be provided to SkyCity, while ensuring that SkyCity must comply with gambling laws and regulations in all other respects in regard to those concessions.
The bill also copyrights the name "New Zealand International Convention Centre'' and "NZICC'', and requires that the Convention Centre land cannot be used for any other purpose.
Documents relating to the negotiations have also been released today, including the regulatory impact statement.