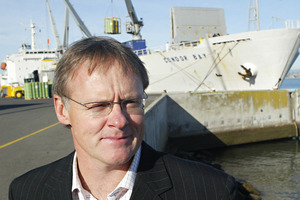 Employers and employees working at Port of Tauranga need to lift their game to lower the rate of workplace injuries and deaths, union and port officials say.
Port of Tauranga chief executive Mark Cairns said the port had monthly health and safety forums but there was still a long way to go to achieve zero injury workplace.
This week, two Bay companies were ordered to pay a total of $85,000 in fines and reparation after a 41-year-old Tauranga man had a foot severed by a winch wire rope last October. Labour-hire firm Bream Bay Enterprises (BOP) Ltd and Genera Ltd both admitted they failed to take all practicable steps to safeguard the victim, while he was working under contract using the winch equipment to wind covers onto a stack of logs.
Mr Cairns said about 2000 employees work at the port, but the port authority only employed 180 of those workers directly. It was his goal to achieve zero injuries at the site.
"While the Port of Tauranga has the lowest level of ACC claims of any port in the country, any ACC claim is one too many.
In our industry, an incident is usually going to involve serious injury or a fatality due to the machinery involved," he said.
Mr Cairns said making the port a safer workplace was a collaborative effort.
"Our workplace fatality rate is more than five times the best in the world in the UK - it's something I really want everyone to work hard to improve ... Unfortunately, there is a bit of complacency which is the biggest killer on any work site," he said.
"I'm certainly sincere in my goal to ensure there is zero harm to people who work at the port, so they go home in the same condition they arrived here in. But Health and Safety obligations don't just rest on employers ... employees also need to take personal responsibility to ensure they don't put themselves or their colleagues in harm's way,' he said.
To help drive home that message in the next two to three weeks, large safety message billboards will be erected at both entrances to the port, Mr Cairns said. The billboards were planned in advance of the recent prosecution case, he said.
Mount Maunganui Tauranga Maritime Union president Peter Harvey said he had no confidence there would be a marked improvement to the health and safety environment at the port without radical changes.
"We've got to stop the carnage. One death in a workplace is a huge event, and one is too many. The reality is that for every fatality or serious injury there has to have been hundreds of near-misses or first aid cases leading up to it," he said.
Mr Harvey called for changes to the Health and Safety in Employment Act.
"The permissive regime to health and safety practices is the real problem.
"There is far too much discretionary power for employers under the act, and I want to see greater enforcement measures put in place," he said.
He would like to see an independent health and safety inspector based permanently at the wharf.
"There also certainly needs to be more empowerment of workers to speak up about problems without fear of ramifications," he said.
Forty-one Kiwis died at work last year and 6000 were injured seriously.
For more articles from this region, go to Bay of Plenty Times