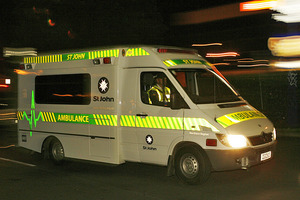 A 19-year-old woman is seriously injured after she was crushed against a house by a car in west Auckland last night.
Auckland Police Inspector Andy Brill said the woman was pinned between a house and a car in Scowns Way, Glendene just before 11 pm.
Bystanders said the woman had started to get out of the vehicle when the car started to roll backwards, carrying her along until it crashed into a neighbouring house.
The person said it was possible the injured woman didn't put the brake on before she got out of the vehicle.
It took emergency workers more than half an hour to remove her from where she was pinned against the house.
Brill said the woman had fractured bones in her foot and other leg injuries, he said.
An ambulance spokeswoman said the woman was taken to hospital with serious injuries.