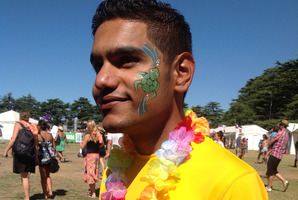 A young Indian man missing in Auckland may be sleeping rough in the central business district.
Ankur Sharma's family live overseas and haven't heard from the 23-year-old for five weeks.
They have hired a private investigator and are offering a $500 reward for information.
Sharma's sister Aditi Jasra spoke to the Herald on Sunday from her home in Canada.
"We hadn't received any emails from him or phone calls back. Around June 15 we contacted one of our friends in Auckland. We were getting really worried. Our friend went to the police.
"It turned out that he was assaulted and mugged at a train station. His cellphone and wallet were taken. He was in Middlemore Hospital for facial injuries and kept in observation then released."
He had been living in rental accommodation with friends in Manurewa.
"Our main concern is we want him to be safe and healthy."
Police didn't think the assault was linked to his disappearance.
Manurewa police issued a missing person's notice on July 1, saying Sharma hadn't been seen since June 9. They did not suspect anything untoward had happened to him.
Anybody with information can contact investigator Danny Toresen on 0800 747 633 or CrimeStoppers on 0800 555 111.