Wheedle boss blocks flag and cap auction, but challenges 'hype' over Nazi memorabilia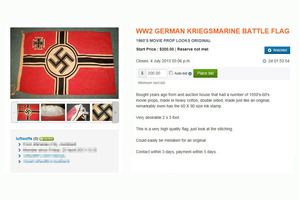 Items bearing Nazi insignia were for sale on Wheedle until website authorities pulled the plug.
An online auction website has banned people trying to sell Nazi memorabilia - but has courted controversy by saying "the Brits killed just as many" in World War II.
Wheedle, a competitor to Trade Me, stopped a trader trying to sell a Nazi flag and a German cap, but the company's boss said there was a lot of "hype" over the issue.
Trading under the name "Luftwaffe" - Germany's World War II air force - the Wheedle member was trying to sell replicas bearing swastikas.
Wheedle boss Carl Rees pulled the plug on the auctions and cancelled Luftwaffe's account minutes after the Herald on Sunday got in touch.
"We don't allow the Nazi insignia," Rees said.
But he added there was "a lot of hype" over Nazi items as "the Brits killed just as many".
"We've got World War II searchlights here. They probably helped shoot down planes."
He said Wheedle relied on members reporting problems and staff checked for people breaking the rules, but it was hard to pick up everything.
No bids had been placed before the Nazi replicas were removed from the site on Thursday, nor had anybody emailed about the auctions.
New Zealand Jewish Council president Stephen Goodman said the fact the items for sale were replicas made no difference.
"It's really the principle of profiting out of other people's suffering that upsets us the most."
Other items for sale on Wheedle but banned on Trade Me are e-cigarettes and courier tickets.

The no-sale list
Wheedle and Trade Me's lists of banned and restricted items are almost identical. They include:
Banned
• CCTV footage
• Cigarettes and nicotine treatments (Wheedle allows e-cigarettes and Trade Me doesn't)
• Fireworks
• Frequent flyer points
• Gang paraphernalia and memorabilia
• Human bodies or body parts
• Lottery and raffle tickets
• Medicines and supplements
• Spray paint cans
• Uniforms for New Zealand emergency services
Restricted
• Alcohol
• Adult material
• Airguns, firearms and ammunition
• Chainsaws
• Gas appliances
• Hang gliders and paragliders
• Kwila and merbau products
• Medical devices
• Pets and animals
• Used underwear (must be washed)