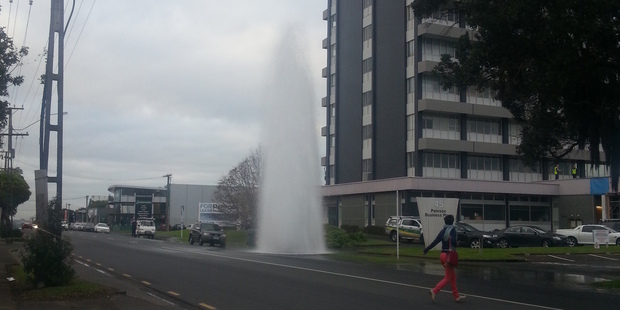 A fire hydrant opened accidentally in Auckland this morning sent a large water spout an estimated 8 metres into the air.
Watercare received reports of the spout on O'Rorke Rd, Penrose about 8.30am, communications manager Ramari Young said.
"Some work was being done on the private network and they caused a break. [The person] then went out onto the street looking for a valve and what they did was open the hydrant."
Watercare rushed to the scene and turned off the hydrant, but not before it soaked the street.
Ms Young said the water pressure was "absolutely extraordinary".
"If you try and open a hydrant without the standpipe you get God knows what velocity shooting up through the hole. It's dangerous actually."
Mainfreight IT employee Richard Daldy said the spout was in full force by the time he arrived to work at 8.25am.
"It was quite impressive. It was very hard to miss."
A small crowd gathered in the street to watch as water flooded into the neighbouring carpark.
- APNZ