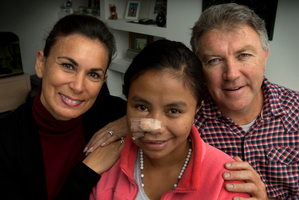 A young Indonesian woman born with a large tumour covering half of her face is excited about restarting her life, thanks to the kindness of Kiwis.
Ani Budjen, a student from the island of Komodo, was brought to New Zealand for life-changing surgery, which is being performed by Takapuna doctor Mark Izzard, a facial plastics specialist.
The 20-year-old was born with a potentially cancerous growth called a congenital nevus. It would normally be removed at birth, but for Ani's family the operation came second to the struggle of having enough food to put on their plates.
Bay of Islands couple Peter and Stacee Honey, who helped set up non-profit projects in Indonesia, met Ms Budjen last year. They were shocked at the growth on her face and promised to help.
Mr Honey wrote hundreds of letters to charity organisations, medical clinics and airlines asking for help, only to be rejected.
The couple then contacted Dr Mark Izzard, who offered to do the operation free of charge.
With help from Rotary, Ms Budjen arrived in Auckland last week and has since had two reconstruction operations, and will need at least one more. "It's really improved my life," she told the Herald. "[I'm] still me, but not different any more. No one can judge me now."
Mr Honey said the operation would have cost US$12,000 ($15,415) in Indonesia.
Dr Izzard did not want to reveal what the operation would have cost in New Zealand had he not footed the bill.